27th Church Anniversary Celebration
August 18,  2019
Happy 27th Anniversary to Hope of God Church Hong Kong !
The theme of this year is "I Trust".
After showing the Opening, sister Rosa and the Praise and Worship Team led the congregation to praise and worship our faithful God with joy.
After that, there was a video showing the life-changing testimonies of two sisters. First, sister Sarah of Kindness Group testified how God has transformed her life after her brother brought her to church. She had been smoking for 20 years, but miraculously, she was able to quit smoking the next day right after she accepted Christ. She is now a more positive and humble sister. God has also restored her relationships with her family and blessed her with a new office job which allows her to have regular working hour and thus she is able to join Sunday service and CG. She is eager to share gospel to her friends.Recently, she has brought a friend to Christ.
Then sister Analyn of Love Group shared that she accepted Christ at our church in 2013. Before that, her life was broken, self-centred and empty. She and her husband had separated for 14 years and by God's grace she restored her relationship and  brought him to Christ . She also thanked God for healing her dad.She enjoy taking part in the Praise and Worship team.
After the viewing the testimonies,it came a special presentation by brothers and sisters. Its theme was to show the joy of the family of God,showing the growth of brothers and sisters.The combination of kids,youth,matured and elderly sang the song "I Love the Family of God".It was eye-catching and the congregation was cheered up. What a touching moment !
Then Pastor Gavin preached on the Scripture Psalms 37:3. The title of the sermon is "I Trust". God's instruction for us is to trust in Him ; dwell in Him and feed on His faithfulness. We should trust in His power and that Christ is in us. Moreover, God's command for Christians is to rise up and speak about Christ. Let us continue to shine for Jesus !
Praise the Lord that one visitor accepted Christ in the altar call. Thank God for the wonderful celebration and what Jesus has done for us.
Let's keep trusting Jesus and keep following Him !
Design: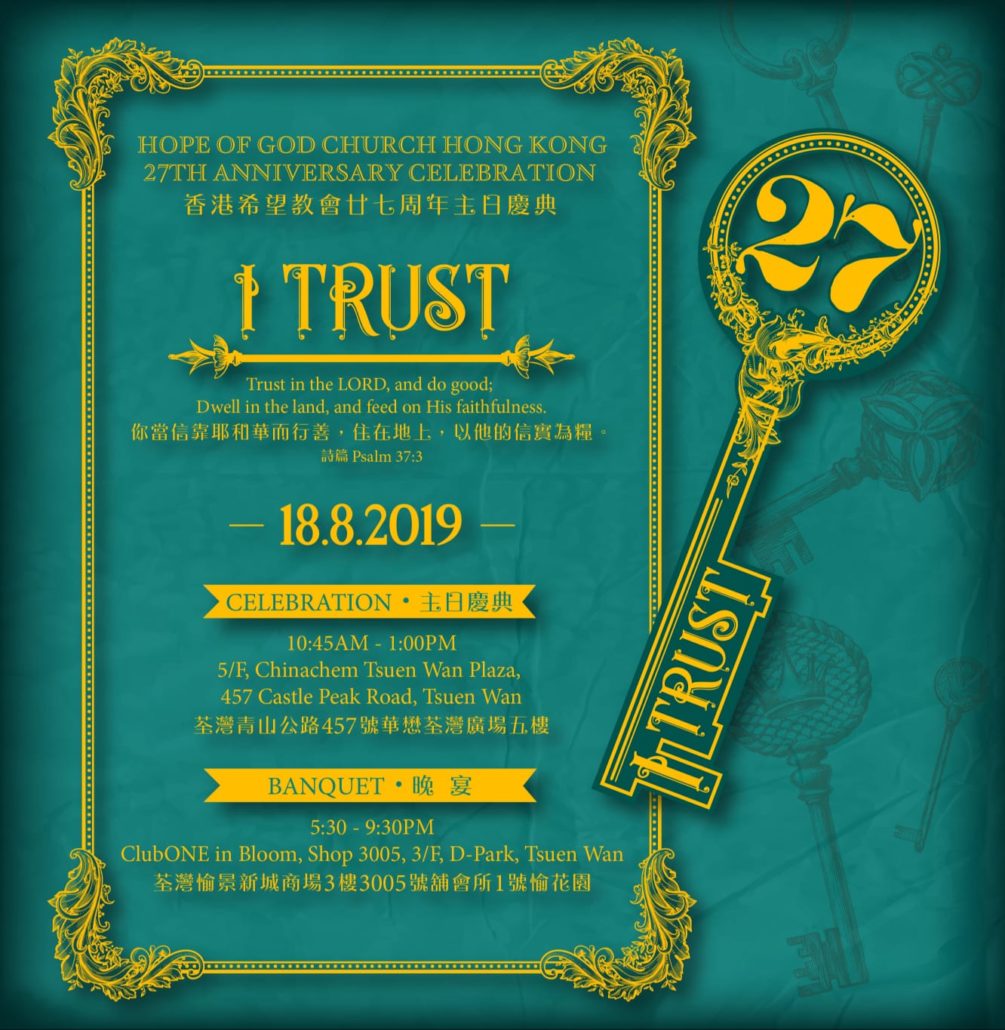 Promotion Video: