28th Church Anniversary Celebration
Aug 23, 2020
Happy 28th Anniversary to Hope of God Church Hong Kong !
Because of the coronavirus outbreak, the Anniversary Celebration was broadcast live on the internet. The theme of this year is "I Surrender".
After a one-min opening video, Pastor Gavin prayed for our brothers and sisters and Hong Kong. Then sister Lolita started the celebration with a prayer and passed the time to sisters Rosa and Gloria, who led us to dwell in a peaceful praise and worship.
After that, brother Jacky and sister Penny shared how they experienced God's love and guidance when preparing for their wedding ceremony. Because of the pandemic, they had to postpone the wedding ceremony and banquet in February to June but they still trusted in God's plan. Sister Penny shared that something happened between them during this period of time, which allowed them to look into their relationship and better their communication. In June, the Gathering Rule was relaxed to 8 people per table for banquets and 50 people for wedding ceremonies. Penny was a bit upset as she really hoped that more guests could join and know about God's love from attending their wedding ceremony. However, later on she realised God had a better plan because many more people could witness the ceremony and experience God's love through watching live broadcast. Moreover, the weather was actually quite bad on the night before their wedding. However, all rainstorm warnings were cancelled in the next morning and they even saw a rainbow. They were deeply touched by God's promise and knowing that God had been looking after them all the time.
Then there was a video showing some memorable moments of the 28-day activity called "Prayer Clap & Step". To celebrate church's anniversary, brothers and sisters were encouraged to spend time on prayers and praise and worship during the 28 days before August 23. We contributed 75958 minutes in total. On August 9, there was an activity named "PPW", where all care groups prayed together, praised and worshipped together or studied the Bible together for 28 minutes after Sunday Service. Praise God for the unity in church.
Following that was a special video presentation about a runner who has to give up his dream as a sprinter because of injury. However, with God's leading and guidance, he is able to leave this dark valley of life and win the champion as a marathon runner.
Pastor Gavin preached on the Scripture Romans 12:1. The title of the sermon is "I Surrender". "Surrender" means giving God the free hand by presenting our lives. It is a rational and logical response to God, not driven by emotions. We surrender because of what God has done for us. We respond to Him rationally and surrender by offering our body as a sacrifice, that is, in terms of our action. In the post-truth era, people think the more autonomy we have, the more freedom we have. But the truth is that the more autonomy we have, the less freedom we enjoy, because the more powerful people will determine what is right and wrong. In the end we lose our freedom and righteousness. Therefore, we have to come back to the original meaning of our life – why God created us. Then we will find the morality and the true meaning of life because Jesus is the Truth, and "the Truth will set you free".
After the preaching and altar call, the "Recap 2019-2020" video was shown. It captured the joyful and touching moments of our church in the past year. Thank God for all His leading and guidance.
Then Pastor Gavin read aloud the names of members who receive the 7th, 10th and 15th year membership awards. Praise God for this great family!
Design: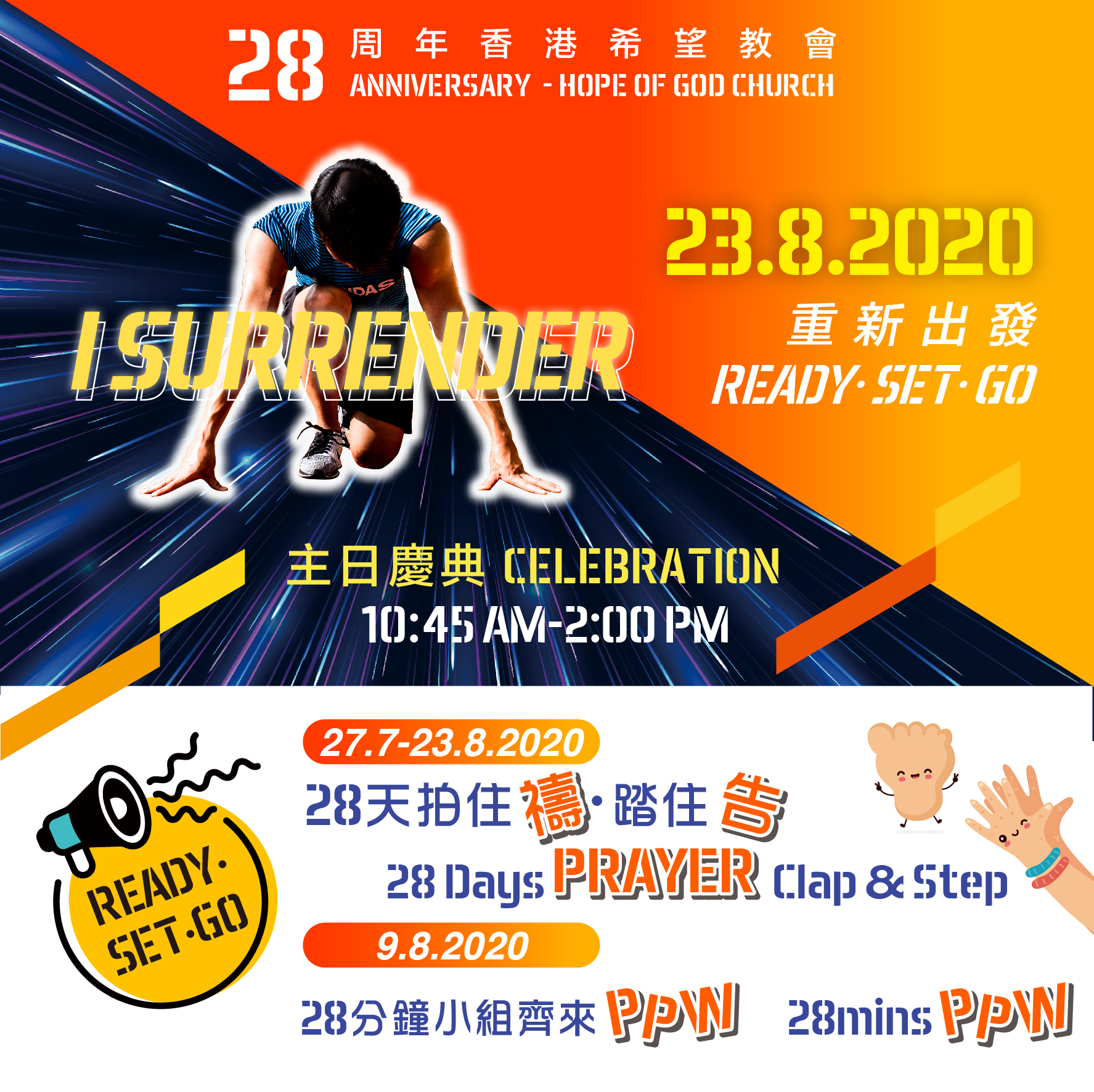 Promotion Video:

Opening Video: